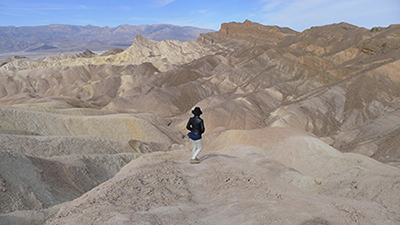 Born and raised in the Philippines, Katrina Bello is a visual artist who is currently based in the United States. Her works have been shaped by life experiences of natural environments encountered during the course of migration. Topics on memory, landscape, time, ecology and geology are the subtext of her work which take form in drawings, paintings, installation, photography and video.
Katrina has participated in solo and group exhibitions in the United States and the Philippines: at Magnet Gallery and West Gallery in Manila; in Gallery Aferro in Newark, NJ; in the Hudson Valley Center for Contemporary Art in Peekskill, NY; in El Museo Cultural in Santa Fe, NM. She has been awarded artist residencies at Brush Creek Arts Foundation in Saratoga, WY and in the Art & History Museum in Maitland, FL. She completed her MFA from the Maryland Institute College of Art in Baltimore, Maryland.
She is also the curator and directing co-founder of
north willow
, an artist-run attic exhibition space in Montclair, New Jersey in the United States. It is committed to site-specific installation, and is founded on skill and resources sharing among artists and their collaborators to make a happening.
CV
Education
2013 MFA Studio Art, Maryland Institute College of Art, Baltimore, MD, USA
2009 BFA Studio Art, magna cum laude, Mason Gross School of The Arts, Rutgers University, New Brunswick, NJ, USA
1990-1992 Industrial Design Major, College of Fine Arts, University of the Philippines, Quezon City, Philippines
Artist Residencies and awards
Art & History Museum Artist-In-Residence, Maitland, FL, USA (upcoming 2019)
Brush Creek Foundation For The Arts, Artist-In-Residence, Saratoga, WY, USA (upcoming 2018)
Vermont Studio Center Residency and Merit Grant, Johnson, VT, USA (upcoming 2018)
Open Wabi Artist-In-Residence
,
Fredericktown, OH, USA (2017)
Gallery Aferro Artist Residency Program, Newark, NJ, USA (2011-2012)
Solo Exhibitions
2018
Conquest of Abundance
, West Gallery, Quezon City, Philippines (upcoming Aug 2018)
2013
Skinning The Image
, Gallery Aferro, Newark, NJ
2011
Thought Patterns,
Krem Contemporary Art, Manila, Philippines
painting into place impossible traces,
West Gallery, Manila, Philippines
2009
drawing encounters from the turnpike and a light from a distant world,
Mag:net Gallery, Makati, Philippines
Fervor: Studies of the Black Nazarene,
drawing and text installation with Eduardo Dayao, Jersey City, NJ
2008
Structure in Nature is a Strategy for Drawing,
Mag:net Gallery, Katipunan Ave, Quezon City, Philippines
2005
Recent Paintings,
Phoenix Gallery, New York, NY
Selected Group Exhibitions
2018
The Idiosyncratic Pencil
,
Elizabeth Stone Harper Gallery
, Clinto, SC, USA
Post Earth
, Index Art Center, Newark, NJ, USA
2017
As Far As Near As Deep As Wide And Tall
, Galerie Roberto, Metro Manila, Philippines
Synthesizing Nature
, The Center for Contemporary Art in Bedminster, NJ, and View Arts Center, Old Forge, NY
Encounters
, Center For Art + Thought (online)
2016
Rockscapes, StARTup Art Fair,
Mile North Hotel, Chicago, IL
31 Central,
Paul Robeson Galleries, Rutgers University, Newark, NJ
Nature,
The Center For Contemporary Art, Bedminster, NJ
2014
Drift
2014,
El Museo Cultural, Santa Fe, NM
2013
Peekskill Project V: Body as Landscape,
Hudson Valley Center for Contemporary Art, Peekskill, NY
2012
Through You Into Action,
Gallery Aferro, Newark, NJ and Center for Contemporary Art, Bedminster, NJ
Arctic Flow,
Index Art Center, Newark, NJ
2011
Drift 2011,
abandoned Sacred Heart Mission Church, Ruidosa, TX
Relexification,
Gallery Aferro, Newark, NJ
2010
Economica,
online exhibition, International Museum for Women
2009
28 Days Later,
Black and White Gallery, Quezon City, Philippines
Tabula Rasa,
Gallery Aferro, Newark, NJ
2008
instant gratification: eventual consequences,
Gaia , Jersey City, NJ
2006
American Diaspora,
Victory Hall, Jersey City, NJ
a(d)dress,
Gaia Studio, Jersey City, NJ
2003
Off The Top,
Bill Maynes Gallery, New York, NY
Recent Drawings,
Philippine Consulate Gallery, New York, NY
Curating
Spring Attic Artists-in-Residence,
north willow, Montclair, NJ, USA (2018)
Attitude of Openness
, north willow, Montclair, NJ, USA (2017)
Remote​ ​Viewing
, north willow, Montclair, NJ, USA (2017),
When​ ​Our​ ​Breaths​ ​Run
, north willow, Montclair, NJ, USA (2017)
​​Rhizomes​ ​of​ ​Place
​, north willow, Montclair, NJ, USA (2016)
Savage Circumstances: The Work of Evan Peterson Schoenly
, Newark Bunker Projects, Newark, NJ (2011)
Memories of Places I Have Never Been: The Films of Dodo Dayao
, Newark Bunker Projects, Newark, NJ (2011)
Interviews and Artist Talks
Panelist, Women Artists Meet Up: Artist-run Spaces, Visual Arts Center of NJ (2018)
Interview/Profile
by Sharon Louden, Creative Capital Blog (8.7.2017)
Interview/Profile
, Filipino-American Artist Directory (2017)
Interview/Profile
, Center For Art + Thought (2017)
Artist talk, 31 Central artists, Paul Robeson Galleries (2016)
Artist talk, Feminist Art Project, Paul Robeson Galleries (2016)
Artist Talk, Pierro Gallery (2014)
Artist Talk, Gallery Aferro(2014)
Professional activities
Curator/Founder,
north willow
art space, Montclair, NJ, USA (current)
Blogger, Gallery Aferro Artists Alumni
Blog
(current)
Creative Capital Professional Development Program (2016)
Curator/Founder, Newark Bunker Projects, Newark, NJ, USA (2011)
Photo editor, magazine and book publishing, Conde Nast Publications (2003-2016)
Graduate teaching assistant, Art and Professional Practices Seminar, Maryland Institute College of Art (2010-2011)
Directories
Open Wabi Residency Artist Directory
Center For Art + Thought
Filipino American Artist Directory
Publications
2016 Synthesizing Nature, by Clarence Burton Sheffield, JR, published by View Arts, NY
2016 Filipino American Artist Directory, edited by Janna Añonuevo Langholz
2012 Through You Into Action, published by Gallery Aferro, NJ
2009 Tabula Rasa, published by Gallery Aferro, NJ
Gallery Representation
Galerie Roberto
, Metro Manila, Philippines
West Gallery
, Metro Manila, Philippines
Krem Contemporary Art
, Quezon City, Philippines