Personal Landscapes

Since its founding over 100 years ago, the Montclair Art Museum has been inspired and nourished by the artists in its community. The Museum is honored to continue that tradition by featuring recent work by artists from Essex County in this exhibition. The rich diversity of media and quality of work represented is a testament to the talent and creativity of our local artists.

Whether a representation of physical space, or a map of the complex inner workings of the mind, these artists have interpreted their own personal landscapes in a variety of ways. A bird flits across the screen of B.E.F. Oakes' video, evoking nostalgia for a half-remembered place. Through detailed brushwork and luminous color, Christine Elvin breathes life back into locations long forgotten. Katrina Bello's massive charcoal and pastel drawing engulfs the viewer, encouraging them to find nature's messages in the vastness of the landscape. These aesthetically and conceptually compelling works of art elucidate the stories, memories, and imaginings that are entwined in MAM and its community.
Passing Bittersweet: A tribute to Ross Gay's
The Book of Delights
January 9–February 9
Williams Center Gallery
Lafayette College
Easton, PA, USA
Reception, Sunday, January 12, 3–5 p.m.
Closing reception, Sunday, February 9, 3–5 p.m.
https://galleries.lafayette.edu/2019/12/13/passing-bittersweet-a-tribute-to-ross-gays-the-book-of-delights/
Guest Curator, Elizabeth Johnson
Passing Bittersweet
features work that embodies ideas garnered from reading Lafayette alumnus Ross Gay's
The Book of Delights.
His chatty, humorous, open-ended essays were culled from a year of daily asking himself: "What delights me?" Self-study and identity merge with the places, people, books, and routines that make Ross Gay happy. From inside what he calls "intense fleeting attentions," Gay maintains a practice of acknowledging what is beautiful in the midst of the brutal.
The artists of
Passing Bittersweet
were chosen not because they illustrate Gay's delights or process, but because their personal delights find aesthetic, physical ways to reframe negativity. The gathered artworks echo Gay's conviction that numberless, small, positive human actions and transactions dispel what is dark, lonely, and unjust.
Passing Bittersweet
honors Ross Gay,
The Book of Delights,
and artists who validate vulnerable, peripheral, and oft-overlooked treasures of common experience.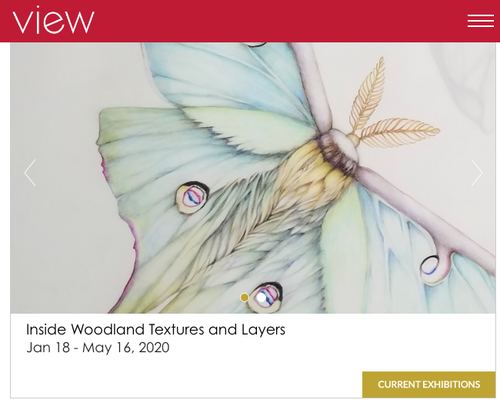 INSIDE WOODLAND TEXTURES AND LAYERS

Exhibiting Artists:
Katrina Bello
Scott Chimileski
Catherine Hartung
Ryan Horvath
Alexis Savopoulos
Lee Ann Sporn

Inside Woodland Textures and Layers is a multi-sensory experience suggested by the varied textures. This exhibition seeks to focus on the worlds hidden from view within the trees, plants, animals and birds inhabiting a woodland environment. We can experience the wind, structure of the trees, texture of bark, leaves, bugs, birds and animals, but it is the magic, beauty, science and ecology happening below the surface that this exhibit seeks to divulge.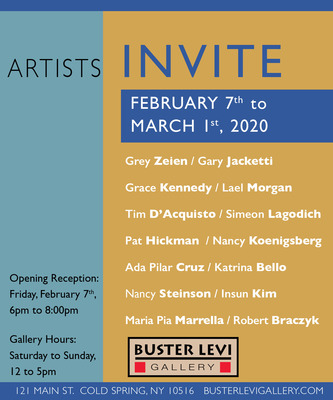 Artists Invite
Buster Levi Gallery
http://www.busterlevigallery.com/